Before we get practical a little of the magic. Cruising through a white landscape while the sunlight makes the snow sparkle like millions of microscopic paparazzi popping off as you glide by. The light provided by a low sun making a fine layer of powder snow rising off your front tire glowingly reveal hypnotic changes in turbulence as your speed changes.
What will today's ride bring? Unlike dirt, well known winter trails can change day to day. New overflow, a fresh moose hole slalom in the middle of the trail, a couple of inches of snow, a new side trail off through the woods that wasn't there last week. What's that track, fox, wolf, rabbit, moose, ptarmigan, squirrel, rabbit, lynx?
The sound of a suddenly hollow trail under you will provide a butt puckering rush as will actually busting through a layer of ice-snow to the next level of ice-snow (keep pedaling you might make it).
Arctic Trail Terminology
Overflow: Water which has come thru cracks or holes in the ice on a river or lake collected in low spots. Usually has plenty of firm ice below the water – but one never knows for sure.
Hollow Trial: Trail on ice or snow from which the water below has receeded, leaving an ice bridge suspended by air space. Also caused by drifted-over grass or brush suspending a layer of packed snow.
Snowmachine: Alaskan for Snowmobile, a term used almost nowhere else.
Mushers: Dog Sled Pilots.
You know, the laugh out loud stuff. The joys of winter mountain biking are many and often unique. If you've never been on a well packed snowmachine-mushing trail it might be hard to imagine how well this works.
Interior Alaska is blessed with ideal conditions for winter biking. Lots of well used trails (we're talking thousands of miles). These trails range from 10 to 30 miles in and out.
We have a long winter, on average not much snow with weeks to months without more than an inch or three falling and, maybe most important, no thawing.
If you run Snow Cat rims a good trail can almost be like riding on a good dirt singletrack. Except for really steep prolonged climbing (which is impossible), braking and general bike handling is pretty much the same.
Of course you make allowances, hey it is snow. You usually keep the front end a little lighter to keep the tire from digging in under certain braking or maneuvering situations. Ice is a challenge but fun when you learn to read how much traction different types provide. Like in dirt riding, momentum is your friend when things get dicey.
With some experience it's amazing what you can go over. On a trail with open areas you will get drifts that are wonderful to hit at speed and go pumping, blasting through. I've learned to move my thumbs to the top of the grips when going over a trail that feels or sounds punchy (soft) to lessen the chance of spraining them in case of a sudden endo when the front tire gets sucked in.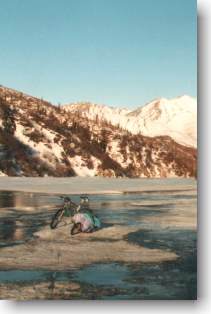 Water on the ice can be really tricky.
If the overflow is shallow I'll sometimes ride it but will carry the bike if it looks like the rims or, worse, the chain-derailleur could get wet and freeze up.
One important rule when dealing with overflow, STAY ON THE ICE. Yes the snow on the side of the trail looks tempting when you're wading in a couple of inches of water on top of sometimes slippery ice, but very often the snow is hiding over-the-boots water.
It's not uncommon to change tire pressure 4 or 5 times during a ride. This is a key to successful winter riding as it makes a tremendous difference as the trail surface changes. Trail conditions can vary greatly due to a combination of factors and only experience will guide your choices. I've been on a packed trail with 3-5 inches of fresh powder having a great "mid-ring" time, it's like riding a cloud with the normal crunch of tires muffled underneath the snow, leaving a strange trail as the pedals break the surface on the bottom of the stroke, it's one of my favorite rides.
Now have a snowmachine pass you and suddenly that same dream trail turns into a nightmare of "little-ring" sweaty struggling to stay upright. The machine will pack the snow just enough to make it squirt out from under your tires, and really challenges your bike handling skills.
On a trail with just a little fresh snow the same rules apply except the trail will set up again in minutes, hours or overnight depending mostly on the temperature. I ride during the week after the snowmachiners have packed the trails during the weekend and they've had a chance to set up. Mushers leave great trails, especially on corners as they cut a smooth hard surface when they slide the dogsled around a curve.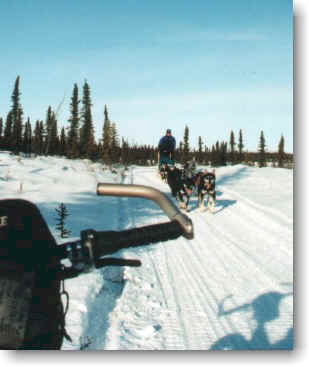 Check the trail before an extended drop, a trail that's great fun going down can be unrideable coming up. On descents with hard or continual braking watch out if you stop.
The heat from the braking will melt the snow and get the rims wet. If it's very cold they will ice up in moments and give you a great thrill when you start back down and find nothing there when first hitting the brakes again. Happily even in very cold temps a few seconds of hard braking will melt the ice and bring a sigh of relief as the brakes start working.
We icebikers are the new kids on the block so I pull over for all other traffic. Don't stop on blind corners as dog teams are fast and very quiet and have a habit of appearing when least expected.
For mushers I pull off the trail and keep the bicycles between myself and the team. I'm not crazy about snowmachiners but realize without them these trails would not be here.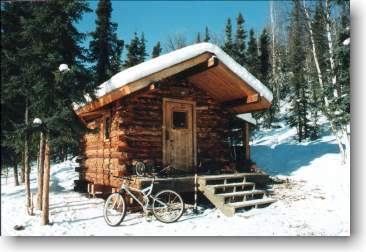 We're lucky to have numerous cabins available for overnight trips within an short drive of Fairbanks.
I have camped out in years past but riding into a beautiful cabin in the woods is the way to go. Some of my favorite rides have a cabin at the end and I'll stop in, start a fire, cut come wood and have a nice lunch and warm up before heading back.
I can't stress enough how much of a difference Snow Cat rims make. They're a big reason why this works so well. The great lightweight breathable clothes now available also help considerably. I've pictured riding 30 years ago with wool and down and it's not a pretty sight.
If you can dress for x-country skiing you've got the basics for winter biking. There is more wind chill to deal with as you go so much faster but again experience is the best teacher. I wear a extra large shell jacket so that my camelback will fit inside and stay warm. This also keeps my lower back covered while bent over the bike. Even the long sleeves can be pulled over your hands for more protection.
If you live where conditions allow it, winter mountain biking is really a great way to enjoy a winters day. I love to ride in the summer but winter biking is really different in that you don't have to keep such total focus on the trail. You're still into the act of riding but for me it's more about being in the woods.
---