How The Ride Of Silence was started by founder Chris Phelan:
The dead cannot cry out for justice. It is a duty of the living to do so for them.
– Lois McMaster Bujold
I read something recently that fits what happened at, and immediately after, the funeral. "Don't settle for a spark. Light a fire instead."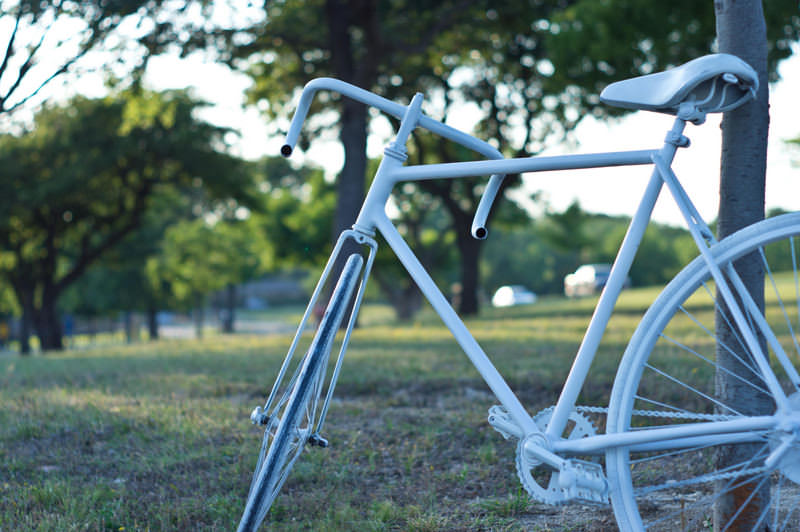 Larry Schwartz ambled down the road on May 4, 2003, with his bike, but without a care, into history. He died 12 years ago on that day, becoming the initial inspiration for The Ride Of Silence.
It was late morning and everything was normal. He was well on his way to riding another 20,000-mile-year on his bike, a number that was numbing to other cyclists who thought getting in 2,000-5,000 miles for the year was outstanding. But not Larry. This was normal for him. But Larry was anything but normal to those who knew and loved him.
A bit elfish at 5'6" with a perpetual grin, he was born January 5, 1961 and always Mr. Positive. His upbeat attitude was infectious in the worst of conditions. He had been smart with investing and was able to retire at the ripe old age of 35. So, like the little kid that was believed to live inside of him, he could ride his bike.
And ride he did. From coast to coast in record time, then back. Then from Texas to Canada. And back. Larry set world records for endurance cycling.
His common law wife, Judith, supported his enthusiasm and zest for life. Together they rode to many of the area rallies, rode the longest distance that was offered (many times with the leaders of the pack), and then rode home. It wasn't unusual for them to log 200-300 mile days, many times, for consecutive days. This was normal.
On May 4, all was normal. It was a work day, the kids were at school, and the sun was out. It was another beautiful spring day north of Dallas.
Normal, until the only vehicle that would share the road with him, a bus, came along in the same direction as Larry, with full view through the windshield of Larry riding alone. It would be Larry's final ride.
His death was written up in BikeTexas Today, February 2003, the same magazine that once featured Larry on the cover. "In 2002 Larry cycled approximately 25,000 miles and in 2003 he had already cycled 7,612.
Larry was fatally hit when the mirror of a passing school bus struck him from behind north of McKinney on FM 1461 around 8 a.m. on May 4.
Larry was wearing a helmet.
Larry's sudden passing has touched cyclists across the continent. A common theme in 21 pages of guestbook entries is Larry's humble nature despite his amazing achievements."
Schwartz died three days later at Dallas' Baylor University Medical Center. A grand jury indicted Haynes on a charge of "Failure to Stop and Render Aid," a felony punishable up to five years in prison and a $5,000 fine.
The decision to accept the plea was tough, says Judith Jolly, Schwartz's widow, "but at least we knew that the defendant would spend six months in jail, and then for the next five years be closely monitored by the state. It is not only for us to remember Larry, but all friends and loved ones who died while cycling at the hands of a motorist."
"The world lost a truly amazing person on May 4," Jolly says. "All of us knew Larry, or of Larry, for his incredible cycling accomplishments. And so many of us knew him as a caring person, a good friend, with an easy-going nature … so modest, yet so accomplished. He was and will always be a legend."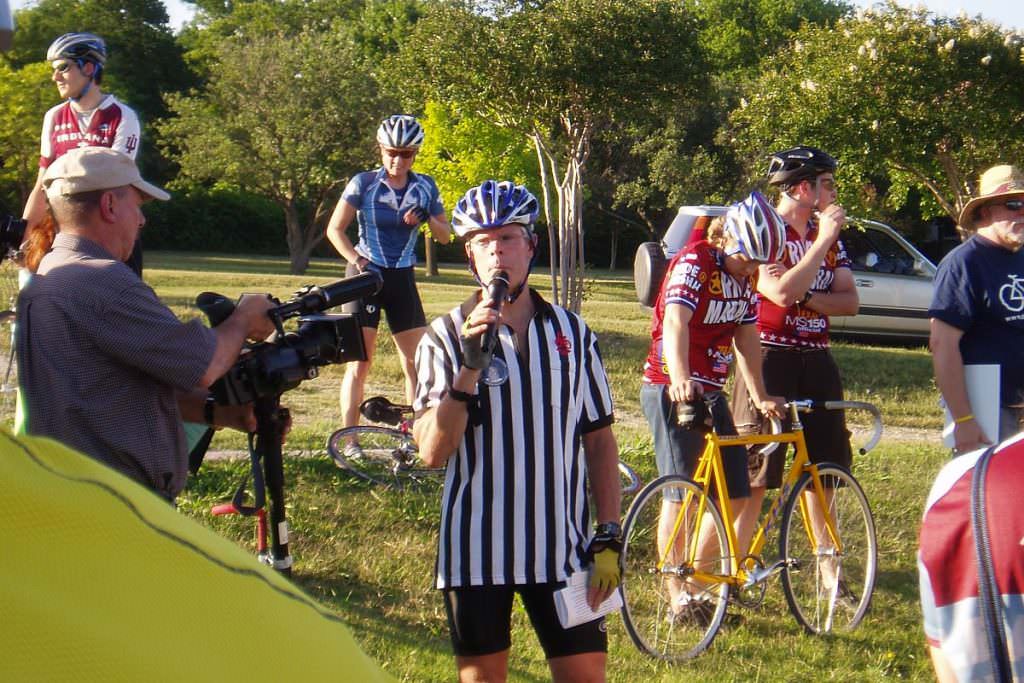 Funeral for a friend
Two days later at the funeral, I told "movers and shakers" in the community, "We should do something." It was an idea, an off-handed comment by a person not considered or known as a cyclist. I certainly wasn't a mover and shaker in the cycling community. "Shouldn't we do something?" I asked. "Maybe ride around the lake?"
No one did. No one seemed to know what to do next.
In a word, I was frustrated. Frustrated at this one accident happening; frustrated at the state of cycling in my little corner of the world known as Dallas; I was frustrated at the lack of basic decency and respect every motorist should instinctively give when another human being, despite his mode of transportation, is sharing the road.
I was frustrated at the apathy and acceptance the death of Larry was met with, almost as if this was just another day, when it should be anything but.
There was not a lot of motivation by those I looked up to, to agree we needed to do something, and join me. All were non-committal, probably for very good reasons.
Maybe they were jaded from all the previous deaths and near-death injuries caused by motorists in the past. Maybe it was hard to shake off a funeral for a friend on a bike, only to have to attend another one a month later. Everyone knew there would be another one. It was just a matter of time.
At the time, the climate between stores, clubs, and teams, cyclists and runners, was toxic. No one was getting along. The atmosphere was stifling, large scale territorial pissing.
(In fact, the atmosphere of animosity was the reason I wore a referee shirt the day of the ride that year, to show no preferences, alliances, or allegiances, that I and this ride was neutral, that as road users it didn't matter whose name was on our shirt, or what team we ran or rode for. A car bumper doesn't care if we were cyclists or runners. Death is a great equalizer. The ref shirt became standard until 2010.)
There was no tolerance between the cyclists or the runners, or the cyclists and the runners. It was a horrible time when bullies appeared to write the sub text of race applications.
Larry belonged to one shop and wore their jersey. He was considered by the cycling community at least, property of that store. Though some of the entities didn't have specific rules of fraternizing with other stores, clubs, and teams, it was strongly frowned upon.
He was "just another cyclist," as the general public, and sadly the cycling community too, saw him. It was another fellow cyclist friend who was killed, to them.
No one seemed to know what to do next, least of all, me. I was primarily a runner and therefore outside the cycling circle. Certainly being an outsider, I wasn't the one who would band cyclists together. I was "just" an outsider.
But Larry was a friend. Very humble, he rode with anyone, at any time, including me, a pseudo runner and triathlete wannabe.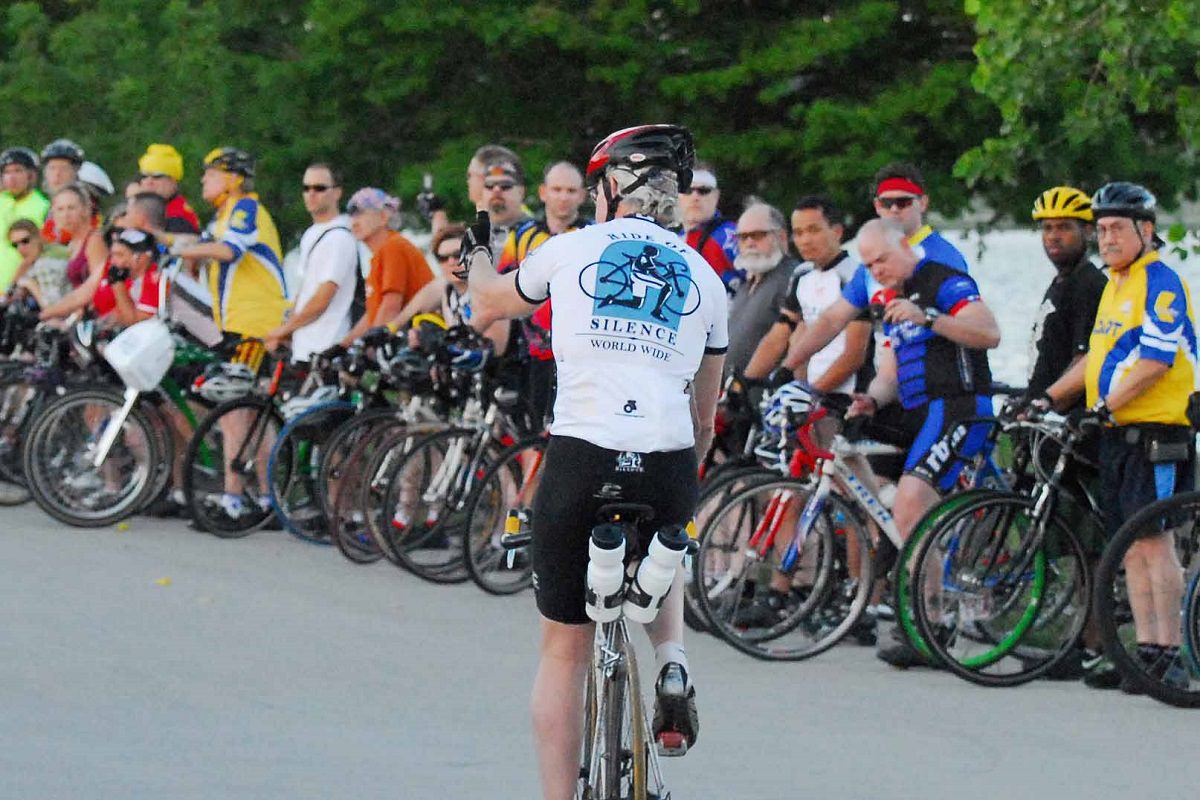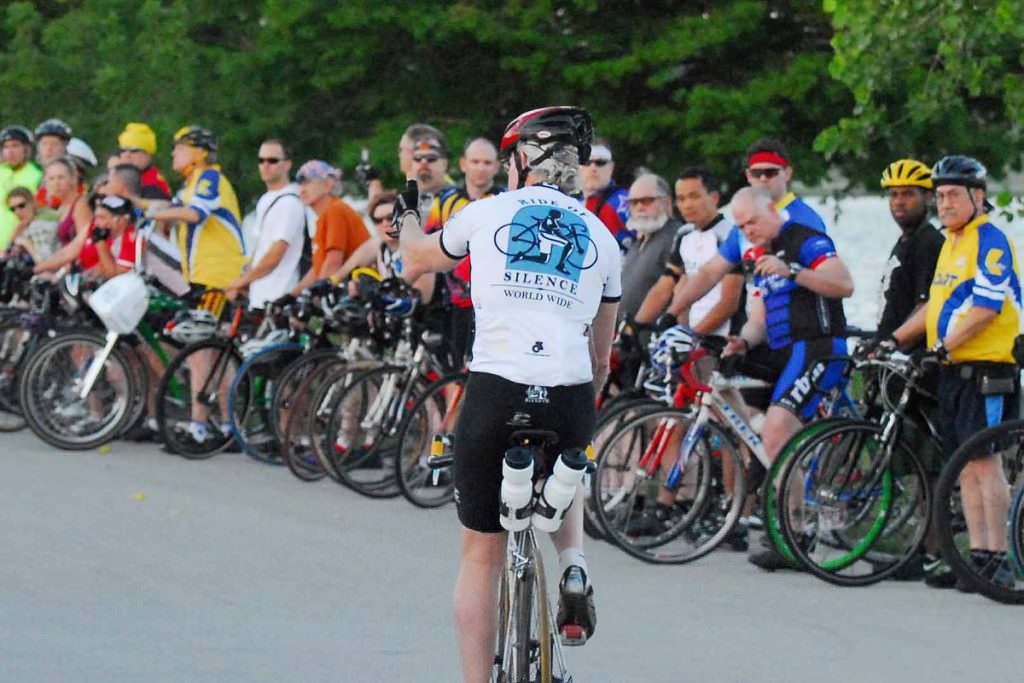 One simple email
Frustrated after the funeral, I waited until 10 p.m., Sunday, May 11 for an announcement of a ride or meeting of some sort, anything. I felt someone would do something. Surely, somebody out there was as frustrated as I was. But, there was nothing.
Angry that no one appeared to be doing anything to mark Larry's senseless death, I sent out a few e-mails in defiance and frustration on May 11, seven days after Larry was hit and killed, stating I was going to ride around Dallas' nine-mile rim of White Rock Lake to honor Larry with a silent loop of the lake, 10 days later, on Wednesday, May 21.
(Wednesday so as not to interfere with the cyclists' weekend riding plans.) It was intended to be a one-time only event. "Hope you can join me," I wrote half pleading, and half with indignation.
The ride was held for free to attract cyclists, not compete against other bike rallies, and keep the ride streamlined.
There was no registration, or fees for participating. (This continues to be the case today at all Ride Of Silence locations. If ever audited, no one could say the people organizing the rides are doing it for anything but the memory of those killed.) Not having a fee was initially also to help attract riders.
Someone wrote back, attacking me, and criticizing the idea. He said the ride was useless and unsafe. I responded, in part, "I am sincerely grieved if people will not be able to come to this event to mourn. I hope they will find a time to do so on their own, in their own way. If I am alone, or if a million people attend, I will be OK with either scenario."
I just didn't care anymore with what people thought about me or what I felt I needed to do.
I knew I was putting myself out there for public display, much like standing naked on the freeway. But, it was not about me, my friends, or my critics. It was about those who have been killed and who can't speak for themselves.
Believe it or not, I still get these types of critical e-mails every year.
The ride might as well have been called The Ride Of Frustration as there appeared to be no avenue for friends to grieve for cyclists who had been killed by motorists. I was frustrated there was no mechanism in place to mark or memorialize "just another cyclist," as the general public saw Larry and his achievements or life on earth, other than a grave stone.
His accident was another fellow cyclist friend to them who had gotten killed. But, they had also seen others killed, and their spot on this earth wasn't marked, either. This wasn't a new occurrence to those left behind.
Larry wasn't the first to be killed, sacrificed to the inattentive road warriors hypnotized by traffic that bully our streets. Even sadder is Larry hasn't been the last to fall victim to motorists city planners, traffic engineers, the law, political agendas, budget cuts, and short cuts. Sad!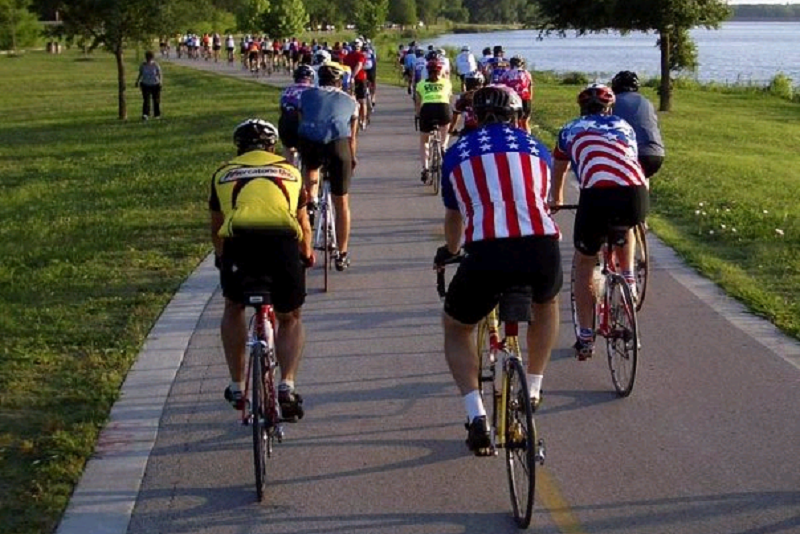 The dawning of a new day
When the day came, May 21, 2003, my wife Janalou Phelan, and a friend Mike Keel, joined me at White Rock Lake for a loop of the lake in honor of Larry, probably thinking no one else would.
Both of them feared I'd be embarrassed, looking a little out of place at Dallas' premier recreation spot for runners and cyclists, riding silently and slowly, all alone.
We rode over the final rise at T. P. (Texas Pacific) Hill on the west side, and, "Lo and behold!" I arrived to see over 1,000 cyclists waiting to join me.
They were waiting to be led in a procession of silence, a ride of which had never occurred before. I was overwhelmed, not just emotionally, but logistically, as well. There were no plans, speeches, amenities, cones, signs, or announcing system in place. It was a community bonded together over a common cause.
That was the largest gathering of cyclists in the city in many, many years. Local media reported the ride to be incredibly moving as these cyclists rode in silence, occasionally wiping away a tear or patting a friend on the back.
The city became very concerned that it was a security threat. As we all know, there's nothing scarier than 1,000 people standing over their bikes wearing lyrca. In coming years, Dallas Parks & Recreation Department would try to close the ride down while extracting fees. For this ride, there was no registration and no fees.
This could have turned ugly very fast, as traffic was grid locked. The local TV news stations had helicopters in the air, and cameras on the ground next to properly coifed on-the-spot reporters.
Newspapers also got in on the act with reporters buzzing around looking for quotes, trying their best to understand, explain, and then synthesize what was happening.
The police arrived and wanted to know what was the problem, what was going on. I explained, quickly, because as we all know, there's nothing scarier than a bunch of lycra clad cyclists standing around. Officer Perry Skidmore called for backup, asking if I wanted an escort.
During the ride, one could hear a pin drop or, at least, sniffling and sobbing. I was choked up thinking about Larry and hearing the passion of people I was riding along side.
People at the park with their families just came to a stop. Even motorists dramatically slowed down and gave us room on the road. It seemed everyone KNEW something was going on, something reverent, and important.
They knew because very few had seen this many cyclists gathered together inside Dallas. Secondly, few had seen this many cyclists go this slowly. They knew something was happening. They just didn't know what.
When the ride finished, I was very thankful it went off without a hitch. But, as my friend Mike Keel said to me when we came over the rise at T.P. Hill, "Life will never be the same." He was right.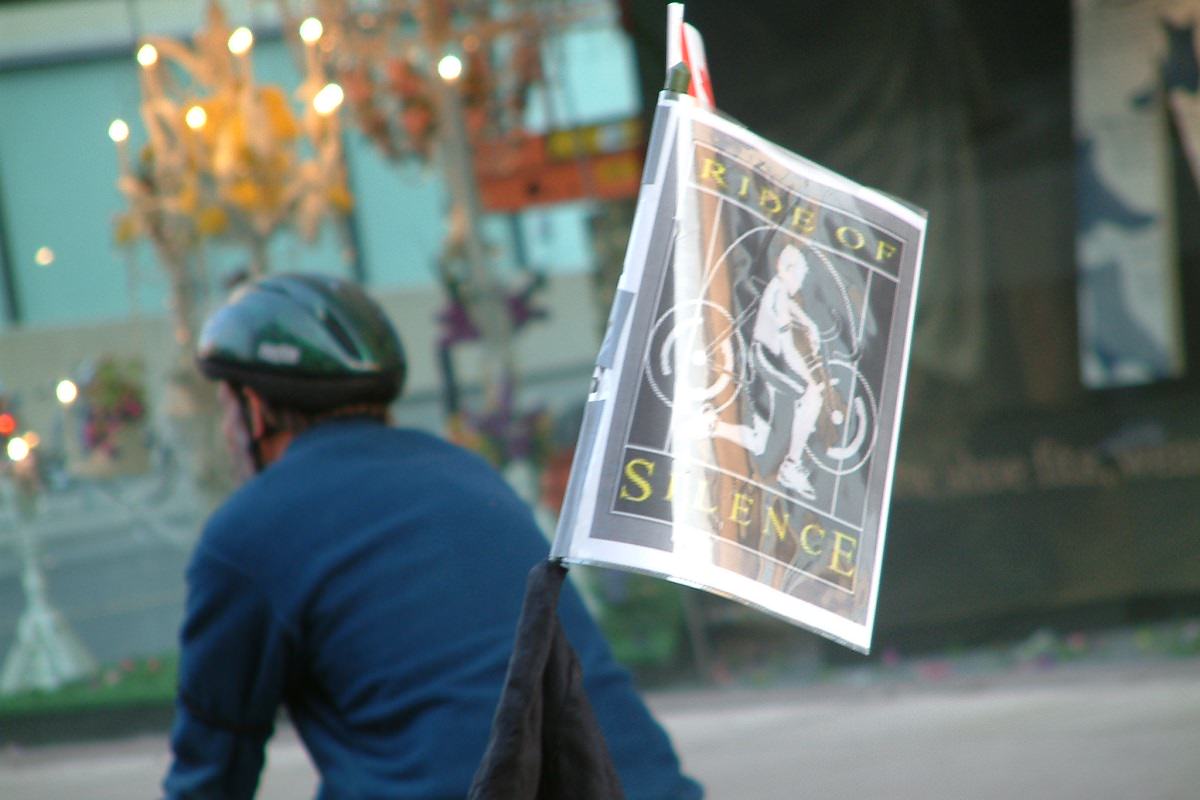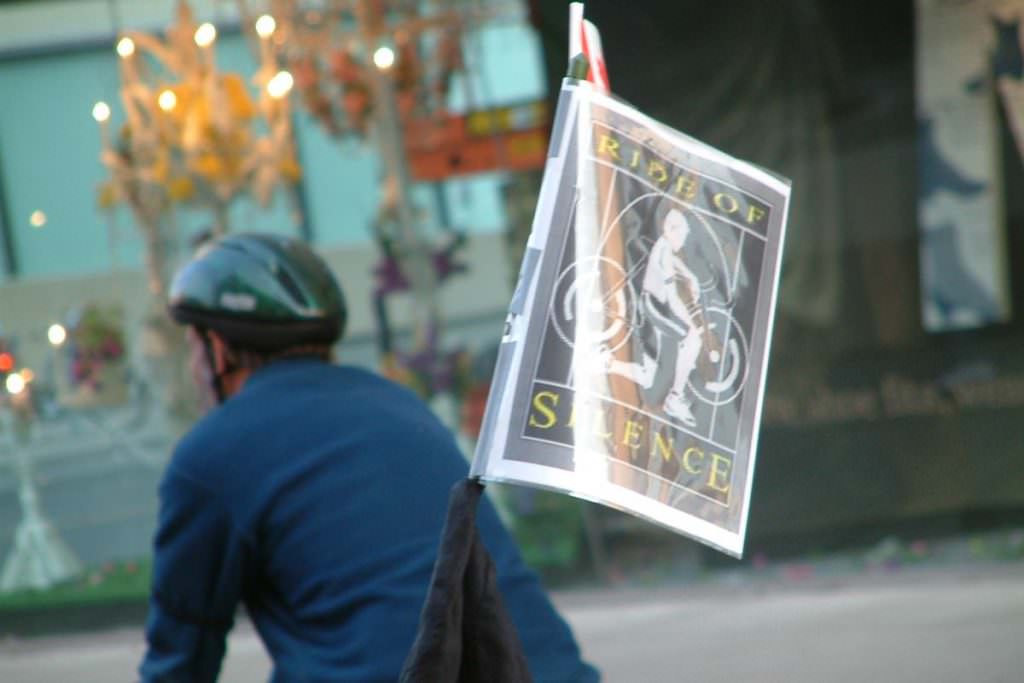 The fallout
The next day, I had e-mails, and was getting phone calls about the ride. Among other things, they asked if I could put on a Ride Of Silence in their town. At first, they were just from Texas.
Then came the first e-mail from out of state, and I thought, "Oh, my goodness!" It was only Tulsa, Okla., but to me it was huge.
For the next several months, I put off everyone, saying no, I would not put on another Ride Of Silence because of what I said in the initial e-mail. "This will be a one-time only ride," I had written.
I had no intention of doing it again. I had closure.
My vision didn't extend beyond that first ride, especially after seeing the success of the Dallas event. I felt there was no way I could replicate that ride, to put the "Genie back in the bottle." It was out, and a second one would definitely flop because it couldn't possibly live up to the growing word of mouth reputation of the first ride. There was no way it could. No way. So I said "No."
Needless to say, by January 2004 I relented, telling those close to me, "You're about to see a train wreck, one of the great belly flops." I didn't have faith the ride could happen again, generating so much good news for cyclists, runners, and pedestrians who also use the road.
The following year in 2004, there were 50 locations from Honolulu to Montreal. The Dallas site had 2,500 cyclists come. Ch. 8's Cynthia Vega came out to get an interview. It was written up in Bicycle Magazine and I was stunned.
After the second year, the event was becoming unwieldy. Friends were cautioning me that I could get in legal trouble, I wasn't making any money off it, the name wasn't copyrighted, and that it was taking up a large part of my work day and my life.
I didn't care. I believed in it as a means of expression, an outcry against the carnage of an invisible population. The ride everywhere had no registration, disclaimer, or fees for riders.
It was totally grassroots trying to get as many people as possible so that we as road users couldn't be ignored. It was a bunch of people getting together to ride, that's all. It has remained so ever since. It is still run entirely by volunteers without any cash flow or budget.
In 2005, the third year for the event, the number of sites ballooned to 120. A board was created to help organize the now International Ride Of Silence. (Today the board is manned by posts in Singapore, Chicago, Seattle, Florida, and Michigan.)
Dallas Mayor Laura Miller gave the ride its first proclamation, where 3,000 came and rode around the lake where Larry used to train, as a statement of mourning, awareness, and protest.
The following year, 2006, saw Texas have 13 locations, while the total number of sites more than doubled again. Now there were over 220 throughout the world. A poster was made for the first time.
The 2007 ride had 300 locations in 12 countries, one on every continent. All but one U.S. state (South Dakota) had a ride location.
In 2008, all 50 states were represented, as were 18 countries. A web master was now on board and Bicycle Magazine came to the Dallas location in person to photograph and view this never before type of event.
While 2009 spread the ride to 19 countries, the logo and web site were first created. By 2010, there were over 320 locations. Each new country was a surprise as Sweden and China joined.
Back in Dallas, the story was on all the DFW media outlets (TV news Ch.'s 4, 5, 8, 11, and 33, The Dallas Morning News, and radio stations KEOM, and Jack FM), and even appeared in the nationally syndicated cycling comic strip, "Yehuda Moon."
In 2011, the event continued to show promise as it grew with new countries, rides on all of the world's continents on the same day, at the same time, a feat never achieved before by any activity or event, ever. The Ride Of Silence, the only time our earth comes together on the same day, at the same time.
Twelve years later the Ride Of Silence Larry inspired with his death is going strong with over 376 locations over 24 countries on all 7 continents world-wide. All 50 U.S. states were represented, with 15 sites in Texas alone, the land of the SUV and gun racks. Zero words were spoken, but a million powerful memories were made and crystallized.
Board members have carried the message forward with passion.
They've been a guide to me and this event. (I can sometimes get carried away with an idea. Though it may have some good seeds, the board has been great to work with. All of them have their own rides to organize and direct.
Currently Mark Hagar serves as Vice President and is the point person for the Grand Rapids, MI ride.
Tim Potter is our web master extraordinaire. We're very proud of what he's accomplished without a budget. He heads up a ride in Lansing, MI.
Lacy Nickell is the secretary for The Ride Of Silence and runs the Claremont, FL ride.
Other members that have made significant contributions over the years include (but not limited to): J. Steve Mayo (Seattle), Debbie Kaighn (New Jersey), Mark Norman (Treasurer – Dallas), Janalou Phelan (Dallas), Mike Stieglitz (Charlotte, NC), Mike Keel (logistics – Dallas-Plano), David Richardson (legal – Dallas), Gail Spann (leadership – Dallas; Gail went on to be one of the main leaders with the League of American Bicyclists because of her work with The Ride Of Silence), Elizabeth Adamczyk (Chicago), Gary Gilbert (Arlington, IL), Benoit Valen (technology – Hong Kong), Colleen Brown (Michigan), Mark Kamenish (posters/ideas – Dallas), Michael Friedoff (video – Dallas), Steve Cook (non-profits – Dallas), Sheila Pecor (outside communications – Massachusetts), Chris Star (Australia), Jeff Isles (Australia), and Victor Yeoh (Singapore, China).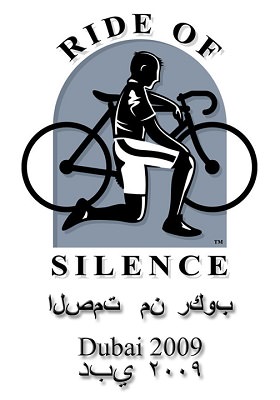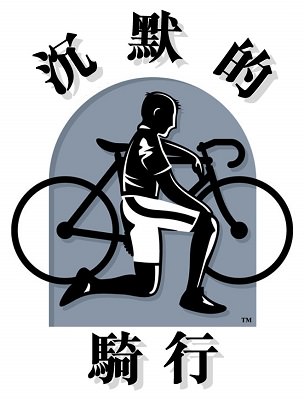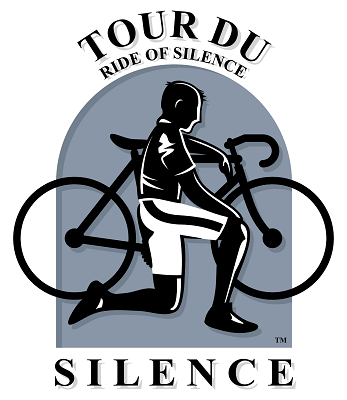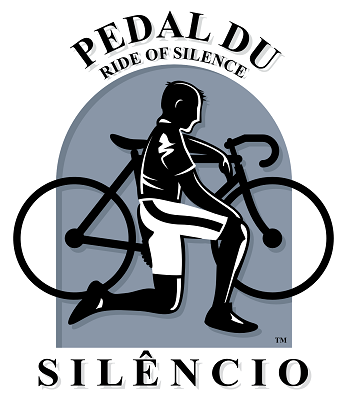 On one night…around the world
On one night in cities around this country and the world, cyclists gather annually to ride in silence to raise awareness of cyclists' right to the road and to honor fallen cyclists hit by motorists.
It's a rally that advocates for the living friends and family of victims, as well as a celebration of those who incorporate the bicycle into their lifestyle.
While the numbers are staggering, we ride slowly (12 MPH) and silently in hope to end this tragedy. The annual ride is done slowly and silently, and is unlike any other bike ride. It is the boldest bike ride in history.
And who rides? What kind of bikes or cyclists show up? Race, road, MTB, BMX, Cross, DH, Trike, DF, 'Bent, fixies, cruisers, trikes, elite, age groupers, commuters, critical mass, cycle chic, lycra, denim, tweed, recreational, casual, young, old, fast, slow – it doesn't matter.
Whether they know it or not, they are part of a large family, and this is their call to the family reunion.
I find this amazing that the ride exists at all, probably just as people were amazed at the distances and speeds Larry rode, non-stop. From starting as a "one-time-only" event, to lasting this long with only volunteers, while covering the globe, is simply amazing. Larry would be shyly proud with a grin.
So far for 2015, we are proud to have had rides in the following countries: Antarctica, Argentina, Aruba, Australia, Belgium, Bolivia, Bosnia and Herzegovina, Brazil, Brunei Darussalam, Canada, Caribbean, Chile, China, Colombia, Costa Rica, Cyprus, Ecuador, England, Great Brittan, Greece, Hong Kong, Indonesia, Ireland, Israel, Italy, Jamaica, Japan, Lebanon – Middle East, Malaysia, Mauritius, Mexico, New Zealand, Pakistan, Philippines, Puerto Rico, Republic of Panama, Romania, Scotland, Serbia, Singapore, South Africa, Spain, St. Kitts – Nevis, Sweden, Taiwan, Uganda, United Arab Emirates, United Kingdom, Uruguay, Virgin Islands (British), as well as the U.S.
To write this story, I had to go back through files and files of letters, others' perspectives, and photographs.
As The Ride Of Silence founder, it's humbling, unbelievable, and hard to comprehend the passion others have about something I thought only affected me.
Twelve years later, The Ride Of Silence, inspired by the death of Larry Schwartz and the 700+ annually killed in this country alone according to League of American Bicyclist statistics, is sadly going strong with over 376 locations (including all 50 US states) in 24 countries with all of the world's seven continents represented last year.
Zero words are spoken, but a million powerful memories are crystallized and made.
I say "sadly going strong," because this means people at all levels are still oblivious to cyclists, and that the deaths of so many cyclists year after year are not making an impact.
Don't get me wrong. The Ride Of Silence has been an unbelievable experience watching people see its potential, possibilities, and meaning, and see the ride grow way beyond what anyone could have dreamed.
But, I hope one day we won't have to ride in silence on the 3rd Wednesday in May. We all hope that people will come together and realize the damage they are doing to their own people, needlessly, senselessly.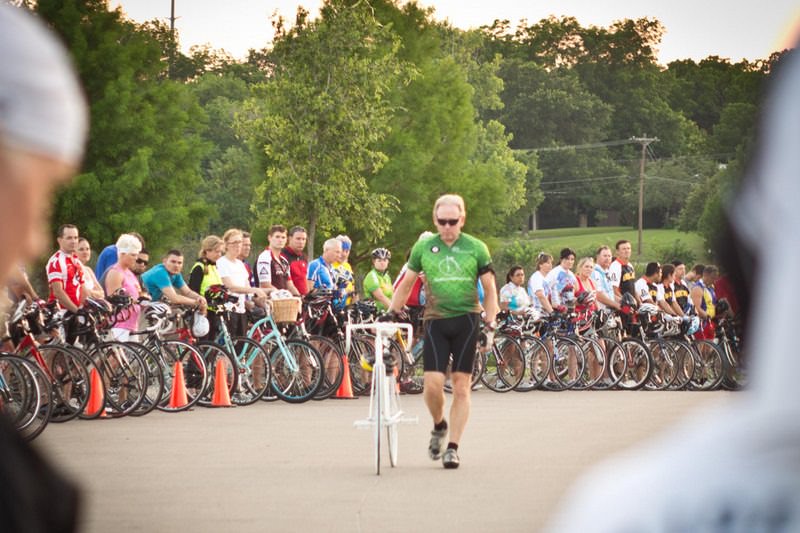 An invisible population
Overall, the response has been overwhelming, with more people understanding the situation on our roads is not conducive for anyone, least of all, cyclists, who have a legal right to be there.
Many people come along side donating money, time, and work to see this event go off safely, in an organized manner. It has been written up in numerous publications, newscasts, and radio broadcasts.
It has been sung about by professional musicians, filmed for dozens of YouTube videos, and brought to the U.S. Congressional floor for the national record. It has become part of the national consciousness.
Cyclists are very grateful for it all. But, cyclists continue to be massacred senselessly on the roads.
We are obviously an invisible population. We must be. We must be invisible to insurance companies, traffic engineers, city planners, authorities, courts, and politicians from neighborhood associations on up, and especially to the motorists who see us in front of their windshields.
These people have failed to uphold justice, and keep a large segment of its citizenry alive, have allowed motorists to be bullies on a part of the ground they are obligated to share, the same ground cyclists have a right to be on. We must be invisible. Or else we have been ignored, and that is worse.
How else can one account for the annual death rate that doesn't bring about jail time?
I have been nearly killed while riding and understand all too well the suffering, harassment, intimidation, and discrimination cyclists deal with at the hands of authorities, courts, city planners, motorists, and insurance companies.
I have been consistently passionate about this cause to rally people from the slumber behind the wheel. I've organized my city, state, country, and the world with many, many volunteers directing the local rides. I've worked late nights on the commuter, going door-to-door, inspiring and meeting with anyone that would meet with me to discuss how cyclists are being massacred daily on our roadways, many times without justice being followed up on the motorists.
Cyclists are seemingly an invisible population to city planners, authorities, courts, city leaders, insurance companies, and motorists. My work is trying to bring that to light by getting as many people as possible on a bike on a single day (always the 3rd Wednesday in May), at the same time (7pm), world-wide.
I've done this for one cause as it has never been done before in the world, year after year, with volunteers, and without a budget. What we accomplish has never been done previously.
We are an invisible population. THAT is why it is necessary to gather as many cyclists as possible at each Ride Of Silence location, so that the same people can NOT, and will NOT, ignore us anymore.
We are NOT invisible, as everyone who attends the funeral services for cyclists hit by motorists below will testify when seeing a coffin laid to rest.
I have petitioned both sitting Presidents during this ride, a simultaneous collection of quiet statements in support of cyclists' right to safe travel, so we are not invisible.
Alone we are but a whisper. But, on the third Wednesday in May at 7 PM we speak loudly through a silence that will resonate around the world. It's our hope we can change our laws, courts, and the perceptions of our legal right to the roads, and motorists' legal responsibility to share the road.
Our tears are our only truth. Tears cried for fellow cyclists are the only absolute truth. Anyone can spout moral babble and sound sincere or even intelligent without acting on it.
The more cyclists we can encourage to come to events of this nature, that highlight the inequalities of cyclist justice on the road, the more our society won't be able to look away, or sweep us under the rug.
We are countless and we belong. We are not going away. We're not packing up our bicycles in bubble wrap and storing them in the garage. It would be like packing up a part of our life, of who we are and what we do. Who would voluntarily cut off his arm, not because it was doing him harm, but because someone else didn't approve?
Micael Ortiz lost his brother on March 22, 2012 as he was riding his bike to work in San Diego.
He organized a Ride Of Silence in his brother's name. Before his first Ride Of Silence, he wrote me. "Three weeks ago, I had no ties to the bike community; I don't even own a bike. Now I find myself becoming an advocate for safer conditions for bicyclists.
This event continues to grow because people have been and continue to be affected adversely by tragic bicycle accidents, whether directly or indirectly. My brother was my best friend, and now he is gone. Riding in his honor next month will let his family and friends know he still has a voice and will be remembered."
It wasn't until the Ride Of Silence that anyone knew or realized the extent to which cyclists are being killed, not only in Dallas, but all across Texas, this country, and the world. Your world. And mine. Every day.
On April 20, 2012, The Federal Aviation Administration reported that since 1988, over 200 people have died as a result of birds getting sucked up into airline engines. Since 1988. Twenty-four years! Two hundred people!
And on April 24, 2012 Mad Cow disease was back in the news. From 1990, when the disease was found, to October of 2009, 19 years, 208 people have died.
Not to make light of these deaths, however we've lost thousands (!!!!) of cyclists in only a few years directly from motorists. According to the NHTSA (National Highway Transportation Safety Administration) there were 662 deaths in 2002, 626 in 2003, and 725 in 2004, with 41,999 cyclists injured in 2004 alone.
Locally, Michael Morris, North Texas Council of Governments transportation director which includes Texas Department of Transportation, announced $500 million that is targeted specifically for Dallas-Fort Worth highways. Not a penny will go for cycling or runners/pedestrians trails or safety.
By the way, TX Dot changed that $500 million into a whopping $2.5 billion (BILLION) by including a $50 increase to the vehicle registration fee, and a 0.5 percent increase in the motor vehicle sales tax.
It's important for us to remember those that have gone before us, who have died doing what they had a legal right to do, ride a bicycle.
It's a sad fact there are very few of us who don't know a friend, a relative, or a co-worker who wasn't killed through no fault of his own. I'm asking people to remember this privilege we have to ride, to remember why we ride, and why we ride at The Ride Of Silence: to remember those feelings of freedom and accessibility of your first ride.
I'm asking people to remember our legal right to be on the road that appears to be eroded away by those that have forgotten the law, motorists' legal responsibility to share the road.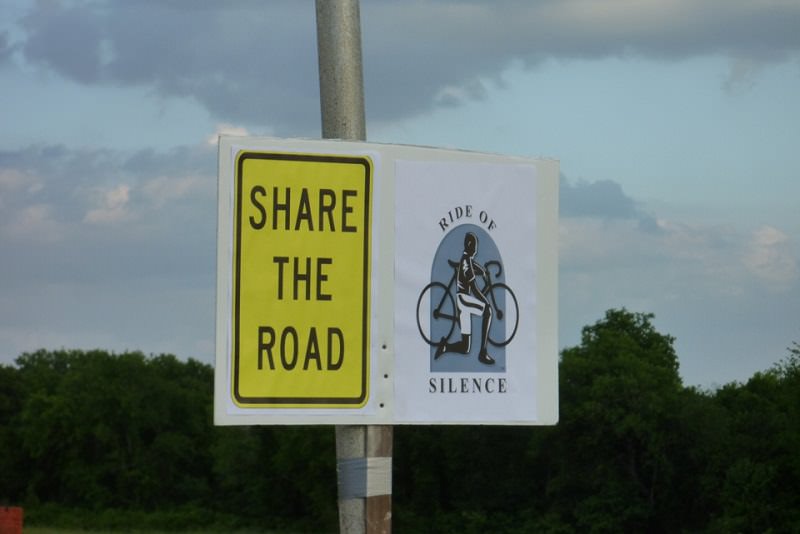 Remember your first bike ride?
Remember your first bike ride? Of course, you do. Everyone does. Do you remember the sense of freedom and independence you felt? You could go anywhere. The world was yours at last.
But some people out there don't get it. "They are darkened in their understanding and separated from life, because of the ignorance that is in them due to the hardening of their hearts. They have lost all sensitivity." [Eph 4:18-19] They have forgotten.
Our message is obviously NOT getting out there. There is a gap, a disconnect as well as a great imbalance. I'm not here to debate why, but to point out it exists.
There are those who feel we are a futile bunch for riding a bicycle, even doing this ride. Yes, there is an opposition to what we do, what we're doing right here right now, and what we think. There is a distinction between those who ride and "get it," and those who don't.
Unfortunately, those who don't "get it" currently have a louder voice than those of us who do "get it."
They don't understand our pleasure of traveling self-powered down the road without the sound of an engine other than our own breathing and pedaling, traveling at a speed that allows one to take in his surroundings so much more than by a motor vehicle.
I am not here to represent motorists or motor vehicle companies. Their collective actions speak louder than my words ever could. I am here for all those voices which cannot be heard: mothers, daughters, fathers, sons – hundreds of families that bleed for our rights, and for the very principles this ride was built upon.
We are at war, ladies and gentlemen.
We must have every person with a bike, ride to aid other cyclists in the preservation of not just ourselves, but of our children. Ride for the preservation of liberty. Ride for justice. Ride for law and order. Ride for reason.
But most importantly, ride for hope – hope that a constitution and the death of many cyclists have not been wasted to the pages of history – that their courage to ride bonds us together, that we are made stronger by their actions, and that our choices today reflect their bravery.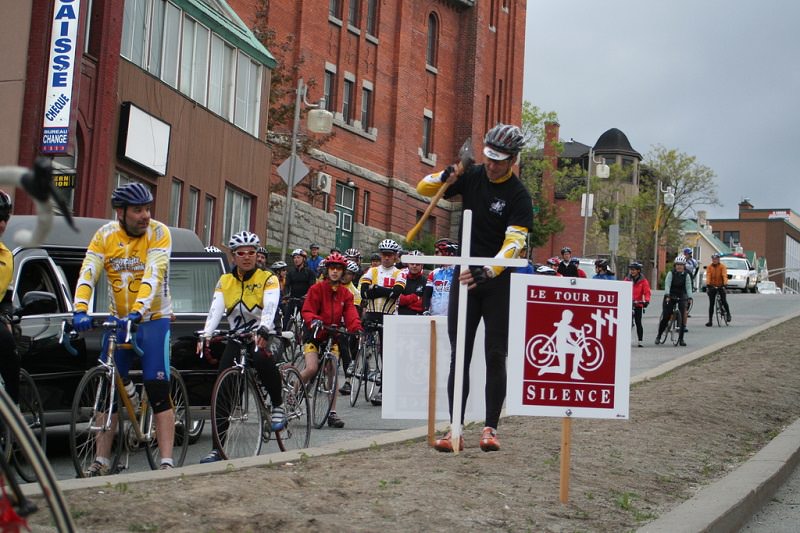 What does The Ride of Silence do?
First and foremost, it memorializes those lost doing what they loved. It remembers fathers, mothers, daughters, sons, friends, co-workers, workout partners, and neighbors who otherwise wouldn't be remembered beyond their immediate family.
Secondly, it has brought to light the number of cyclists killed mercilessly everywhere. Prior to this ride, many cyclists thought the problem was only local. But this ride made all people realize the problem of cyclists being killed was universal.
Third, it has united, bonded, inspired, and organized cyclists locally and globally to act in a kind and selfless way, meeting in peaceful assembly, without reward, monetary or otherwise, leaving a legacy for others to follow and possibly change the world little by little.
Fourth, with over 376 ride locations on all 7 continents, this ride's impact is undeniable. It has been reported in every medium to millions of people world-wide, to regular people who use a bicycle as a form of recreation, exploration, commuting or travel, and commerce.The Ride Of Silence has made a large impact that will be remembered individually, as well as throughout the communities of our towns and cities, states, country, and world.
Fifth and last, The Ride Of Silence remembers the bicycle, not just as a child's toy or pastime, but as one of the cornerstones of transportation and business development, as it still is today.This event remembers it is the bicycle that inspires people to get to know their neighborhoods and neighbors, and thereby form a safer world, as well as be a part of the solution against the obesity epidemic.
If we are a light, there are people who want to put that light out, and thereby, forget; forget we're on the road or those they've killed. They want to reject what we do.
It's a poor testament to a sport where your first priority is not about enjoying or excelling in the sport, but about trying not to be killed.
What other sport has this to say about it? Certainly not the big five: football, baseball, basketball, soccer, hockey.
Untold deaths in the most unlikely of places, of people who are constantly terrorized and in fear for their lives.
We should be able to ride without fear, instead of the knowledge that the blood of cyclists are seeds for our anger. We shouldn't have to fight and struggle for what is legally ours to begin with.
The argument for cyclist's rights and right of way should have ended with the original laws of every state. This ride, and this process of fighting to be seen and recognized by motorists as well as governing entities and private enterprises, is ridiculous when you consider The Ride Of Silence shouldn't be here in the first place.
We are not anti-cars, but rather firmly believe we can all co-exist just as the law allows. We know we have a legal right to use the roads. We also know motorists have a legal obligation to share their roads.
Cyclists, who died at the hands of motorists, must not be in vain. Their blood cries out for answers.
Let us ride for Larry Schwartz and every cyclist who's been hit. Let us be consoled that our ride is attracting attention to the number of deaths of cyclists that are taking place. These cyclists did not die in vain. Let us come together to remember, and to feel what it's like to ride a bike. Let us ride in silence.
I feel like Oskar Schindler in the movie "Schlinder's List." One more town, one more city, one more country to save.
No one could make a greater mistake than he who did nothing because he could do only a little.
Edmund Burke (1729 – 1797)