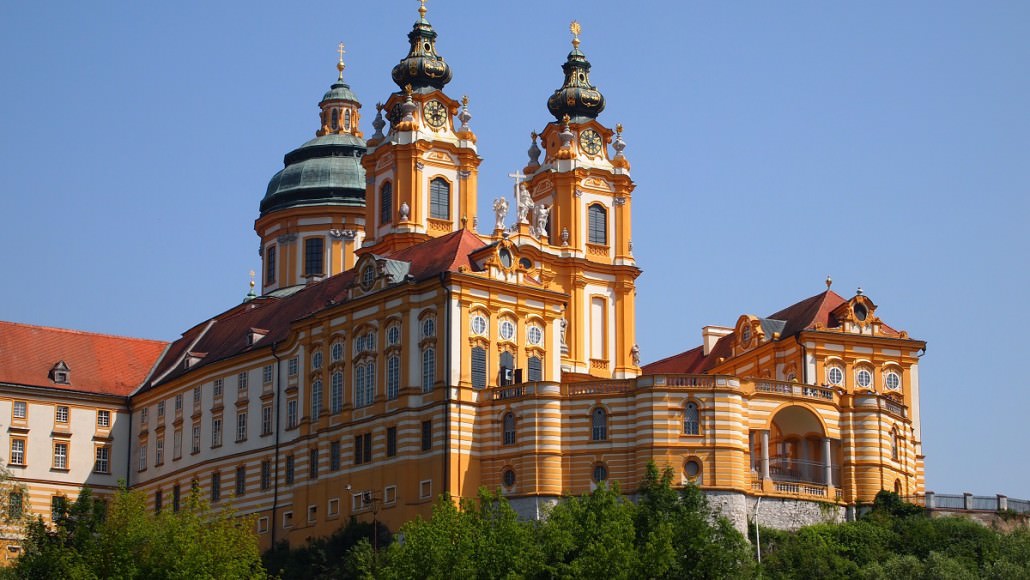 On this page we attempt to make available the experience of individual bicycle tourists who travel to Austria (you can share your experiences here).
---
---
Vienna Airport and Austrian Airlines
The 1st of July I returned to Washington, DC from Vienna, Austria. I flew with my bike on Austrian Airlines (code/share with United). At the Vienna airport you take your bike (pedals off, handlebars turned) to the oversized check in. They will take it without a box or bag, in fact, I was told the baggage handlers prefer it that way. My bike arrived at Dulles on time with no damage.

This is the way it should be at all airports.
Stuart Bonning, August 17, 2013
---
What different airlines charge for taking your bike with them
Up to date information about what different airlines charge for taking your bike on their planes.

http://www.cyclefiesta.com/multimedia/articles/taking-bicycles-on-planes.htm

Most European airlines are covered, as well as a few other big ones around the world.
Ian Smitton, August 27, 2012
---
DuVelo / Discover Europe on a really good bike.
We rent trekking bikes (Santos Travelmaster 2.6ALU) with Rohloff and belt, waterproof Ortlieb bags, GPS. We pick up and deliver anywhere in Europe.

Dumortier Tom, March 26, 2012
---
Bicycle Travel Bags and Bicycle protector Bags. Law Rome
Rome Bike Bags continues to support the Bicycle Travel Bag indsutry needs celebrating their 15th year. The Bicycle Travel Bag or airline and rail travel continues to be the industry standard for ease of use and utility The Patented Bicycle Protector Bag is more popular than ever. Protect you bike form the elements when not in use. wwwbikebags.com 1-888-ROME-BIK 310-791-6366 Law Rome
Law Rome, October 05, 2011
---
Bicycle Rentals in Italy, France and Europe in General
The folks at www.BikeRentalsPlus.com rent bikes and deliver them to your villa, hotel, or even to the airport. We rented bikes in Nice and pedaled for 4 weeks and dropped the bikes off in Venice - a great service. Their bikes are equipped with 24- or 27-speed Shimano gear systems. We had road bikes with Shimano Total Integration (STI) shifter/brake lever controls. They also provide hybrid bicycles with Shimano RapidFire or SRAM GripShift shifters. I think they also can provide mountain bikes.

Our 32-spoke wheelsets on the road bikes were solid and reliable for carrying gear and the bikes were equiped with Vittoria 700x25c tires.

The bikes came with a cyclometer, pump, rear rack, lock, and an under-seat pack that contains a spare tube, tire irons, and patch kit.

We actually considered buying some of their used bikes instead of renting but finally decided just to rent. (We have a friend who did buy a used bike and they shipped it to Vienna for him - he picked it up there at a bike shop, pedaled to Budapest and sold the bike there before flying home!)
Rick Price, September 15, 2008
---
Mayq Site on Cycling in Europe
My site mayq.com covers extensively bicycling in Europe.
The pages linking to this URL give public trans portation options as well as detailed biking directions out of Charles de Gaulle and Orly into Paris or elsewhere in France: http://www.mayq.com/Cycling_out_of_paris/Airports/Paris_airports.htm

The following url gives detailed information on trains and bicycles (including sewing lightweight bike bags) in France (and some info on other countries): http://www.mayq.com/Best_european_trips/Touring4_trains_and_bikes.htm
There is much other useful information on the site.
Q. May, August 19, 2007
---
Vienna Airport
It is very possible and easy to bike to and from the Vienna airport. Just go out of the airport to a not very busy 4 lane road B-9. This is not the autobahn.(which, of course, you can't use) The road has a broad shoulder and is quite flat. To the east is Schwechat (a suburb)and Vienna itself. You end up in front of the Russian war memorial. It takes about 1/2 hour and you get to see all manner of petro-chemical plants. To the west is Hainburg and Slovakia.
Stuart Bonning, August 14, 2007
---
Train travel with tandem in Austria and Italy
My wife and I recently returned from a Tandem touring trip in the Italian Dolomites.

We arrived at Vienna airport (see my other post about the air transport). I don't think it is possible to cycle into town from Vienna airport. I had to hire a van taxi for E68 to take me to a hotel downtown where I stored the box and stayed after the trip. If you could arrange this in advance it could be cheaper (try Teri at 0650 600-3383).

We then cycled to the Westbahnhof station to travel to Dobbiacho in the Italian Tyrol via Innsbruck. I had booked the tickets in advance by telephone from the US. I would have done it online but it did not seem to be possible to get a bike ticket on line and also it is worth getting first hand information about which trains do and do not take bikes. I picked up the pre purchased tickets, bike passes and reservations (you need this in addition to the ticket) at the station.

The intercity trains usualy have a freight waggon which carries the bikes whereas the regional trains have a regular waggon with the seats folded up (usualy the front waggon). Unless you are at a terminus it is desirable to know where the bike waggon is going to be as you may have very little time to get the bike on board. Also, your reserved seat may not be close to the bike waggon so I would advise that you get out of your seats and walk up the train to the waggon next to the bike waggon just before your destination station. This requires knowing what time you are scheduled to arrive and the name of the penultimate station. We nearly lost the tandem on one connection, it is important to talk to your partner about how you are going to choreograph things! Another potential problem in areas where bike touring is popular is that other bikes may get placed on top of yours making it difficult to retrieve in a hurry.

When booking tickets be carefull to check that you have adequate transfer times at connections. They will sell you tickets with only 3 minutes but that is not nearly enough time to get the bike off, get to the next platform and get the bike loaded. I would recomend a minimum of 15 minutes.

Bike touring in the Dolomites is delightful and there are many many bike paths and tracks.
David
David Shepherdson, August 12, 2007
---
Air travel to Vienna with Boxed Tandem on Lufthansa United SAS & Austrian
I recently returned from a trip to Austria and Italy with my Tandem from Portland, Oregon. I booked the ticket from United and flew Lufthansa & Austrian to Vienna and then SAS and United on return.

Before I travelled I checked the websites and called all the airlines with which I was flying to make sure that there was a note with my reservation and to confirm policies.

Lufthansa do not charge for the bike as long as it is one of your two pieces of check-in luggage and weighs under 23Kg. If it weighs between 23Kg and 32Kg the extra baggage charge is $50. If you check it as a 3rd piece of baggage as a bike the charge is currently $100 with a 32Kg max. At over 32Kg's the charges are very high.

Despite weighing it at home my bike weighed 34Kg at check-in but fortunately they turned a blind eye to the extra 2kg and charged me $50. The length restriction for checked baggage does not seem to apply to bikes (mine was in a carboard box obtained free from a bike shop that measured 73x11x31 inches)but it is probably 2 meters in any one dimension. Lufthansa do not require that the bike be packaged but the handlebars must be turned. The regulations for SAS and Austrian appear to be the same as Lufthansa. United have stricter rules but the regulations that matter are the ones for the airline that you start your flight with. But I called United anyway and they also said that if the bike was part of your checked baggage that there should be no charge as long as it was less than 23Kg and no single diemension larger than 80". However, a friend that travelled to Europe this summer with a solo bike on United was charged $85 even though it was a one of his 2 checked pieces of baggage. I would advize calling United and getting this settled in advance of your flight and a note put in with your reservation.

On my return I reduced the bike box weight to under 23Kg by removing pedals, wheels, lock, one handlebar and tools and putting them in my second checked in piece (in a cardboard box I found behind a store in Vienna - I took the rest of my baggage as carry-on)and when I checked in with SAS at Vienna I did not have to pay anything.

I would advize checking in at least two and a half hours before your flight leaves to leave time to resolve unexpected problems.

Here are some additional sites (but they do contain some inacurate information):
http://www.bikeleague.org/members/bikesflypolicies.php#policies
http://www.ibike.org/encouragement/travel/flying.htm
http://www.ibike.org/encouragement/travel/bagregs.htm

I don't think it is possible to cycle in to town from Vienna airport. I had to hire a van taxi for E68 to take me to a hotel downtown where I stored the box and stayed after the trip. If you could arrange this in advance it could be cheaper (try Teri at 0650 600-3383). When checking in at Vienna you should go to the check in counter for bulky items which is behind you as you face the Austria airlines check in counters.

I will post my experiences of travel on Austrian and Italian trains in another post.
David
David Shepherdson, August 12, 2007
---
Rolling Across Europa
My site tells the story of my ride from Lviv, Ukraine to Napoli to London in 2006. (There's just a little info on Heathrow toward the end, plus mention of the Channel ferry I took.) There are many stories and photographs, with a lot of information for other travelers. Hopefully, others will find it helpful. I rode as an amateur and completed my route, which shows that you don't have to be a great cyclist to travel far (about 7900 km). The trip also raised a little money for HIV orphans in Ukraine, and I hope to do a longer ride in 2008 and raise a lot more!!
John Robinson, June 28, 2007
---
AUSTRIA/GERMANY EURO CITY TRAINS
This September 2006, we flew our bikes from Birmingham airport to Frankfurt with BA Connect. No problems. We wished to cycle down the Danube cycle way from Regensburg to Vienna. From Frankfurt to Regensburg we took regional trains. Here as we found last year there were no problems and the rule that you must remove your luggage did not seem to be enforced. We had no string to attach the bicycle tickets so stuck them between the spoke! The cycle ride was wonderful and being late September there were no problems finding accommodation. At the end we needed to get from Vienna to Regensburg and wanted a faster train so chose an EC (Euro city) Vienna Westbahnhof said that for certain bookings we needed to travel on the following day. However he sold us tickets valid for a month and suggested we try our luck.
The train was going all the way to Dortmund. The bikes go in racks sideways on and you simply have to remove your luggage. The bike racks all had numbers and electronic displays stating where they are reserved from and to, just like the seats. Only half a dozen of the 20 odd racks were reserved and the conductor put our bikes in vacant racks and we found unreserved seats nearby. Our Regensburg Vienna journey had taken 8 days and the return rail journey took just over four hours and was comfortable. A catering trolley paid us several visits. German trains are bicycle friendly and we shall be going again next year. At Frankfurt airport we had to pay 25 euros for each bike but we knew this from last year. That fee seems to cover the bike and so your luggage should easily fit within the normal British Airways limit. In any case we find that British Airways are more relaxed about excess baggage than some of these "fly to European cities for a pound operators"
Brian P. Moss, November 14, 2006
---
Bicycle padded airline Bag
Still the best product out on the marketplace is the Bicycle Travel Bag from ROME Bike Bags, CA 310-791-6366, they ship the same day for procrastinators like myself who needed a bag in a hurry. The bag was used for a trip to france and was easily stored in a locker at the train station when I was riding. ***** Great price $129, give them a cal, I think the website is www.bikebags.com ask for Sandy.
Brian, May 26, 2006
---
New bike transport service in Europe
Hi,

We - the company Bike Packers (www.bikepackers.com) offer a completely new transport service for bikes in Europe. We send the bike in advance, the cyclist travels without the bike.

How does this work?

We have a network with hundreds of bike dealers throughout Europe. The cyclist goes to a dealer near his home and gives them his bike. The dealer packs it correctly. From this dealer we send the bike to another dealer in the town where the cyclist wants to start the tour.

The way back is the same. This facilitates biking in Europe enormously. cyclists can now easily reach regions far away.

Best regards

Franz Hitzelsberger
Franz Hitzelsberger, January 05, 2006
---
Web page discusses bikes on trains in Europe
I've recently posted a Web page about transporting bikes on trains in Germany and Austria, drawing upon nearly a decade of traveling in the area and experience doing many bike tours in these countries. The page also links to my trip reports, which include additional information about bike touring in Germany, Austria, and the Czech Republic (with attention paid to public transportation).

The site is at
http://www.brianwasson.com/trips/trains.htm
Brian Wasson, October 13, 2005
---
Austrian trains
Austrain trains OBB (and Austria) are very bike friendly.

I travelled return from Salzburg to Linz in May 2004 on an intercity train and all I had to do was make a booking for my bike before hand. On local trains you don't need to make a reservation for your bike. I took my Bob trailer on the train and also had no problems.

Try cycling around the Austrian Lake District its beautiful and has some good campsites:)
David, June 01, 2004
---
Salzburg, Austria
Its easy to ride from Salzburg airport to the city centre just follow the clearly marked bike paths.

The Tourist Information booth at the airport hands out a decent town map with the cycling route marked, or the newsagents sells a more detailed map.
David, June 01, 2004
---
Austria, France Slovenia, Norway
South-west France
Toured in 2002. Easy-going - only problem on ICE trains is that bikes go in a special carriage; nobody at stations knows beforehand where that carriage is which makes it all hectic as French trains don't hang about at stations. And on Fridays, French trains are very crowded.
Austria
Toured in 2003. Bike-aware country, no problems taking bikes on trains. You pay (not a lot) but you get service for your money.
Slovenia
Toured in 2003, from Italian border to Postojna via Bled, Lubljana. Not a lot of cycle-track outside Lubljana, but roads aren't too busy and Slovenes are considerate drivers Bikes on trains OK, but if the timetable says 'yes' to bikes, confirm at the local station because in reality some trains do, some don't.
Norway
Live here (Stavanger). Trains OK (you pay). Drivers OK: the heirarchy here is pedestrians>cyclists>powered vehicles - driver hits pedestrian, he has big-time problems. Plenty of cycle-tracks in towns, both asphalt and compacted gravel "off-road" suitable for city-bikes and kids. Out in the countryside, tracks and their length relate to the amount of cash the the local 'kommune' can afford.
Airlines
We use SAS and KLM, from our local (small) airport. Never any problem with bikes - SAS likes a warning that you're bringing one, but generally both airlines regard a bike as 'checked-luggage' (turn the bars and pedals and de-pressurise the tyres, of course)
Only problem we've had was checking them in at Toulouse; KLM in London said no box needed, but young girl 'handling' for KLM mis-read the rules, wouldn't listen to anybody not even her superiors (could here her phone converstion), just being bloody-minded.
Interesting bit of naughtiness. If you're using LHR, you can check -in for some airlines at Paddington; the checkers-in don't question you, don't weigh what you're checking in ... I've transported some incredible items this way, sorts of things it needs two big strong lads to drag across London. gordon large, May 29, 2004
---
Hydrofoil between Budapest and Vienna
Found on: [email protected]

jfoneg wrote: ... there is a high speed airfoil boat that runs about daily between Vienna/Budapest in about 6-7 hours. It will drop you off at Brataslava as well for a smaller fee - I think the one way Budapest to Vienna cost me 70e with my bike.

It should be noted that there is limited room for a limited number of bikes on the hydrofoil. When I was there in 2000, the BudaPest-Vienna leg required reservations 24-48 hr in advance. Needless to say with only three days to get back to Vienna, we elected to bike, since we could get no assurances on a Saturday that we would be able to get reservations on the following Monday

Cletus Lee

Bacchetta Giro Lightning Voyager

http://www.clee.org

Bellaire, TX USA
Cletus Lee, October 15, 2003
---
Trains, Austria
I took my bike on Austrian trains last October. I took trains from Vienna to Salzburg, Salzburg to Zell am See, and from Zell to Krimml. I then cycled back to Vienna (see my photos at http://webhome.idirect.com/~brown/austria1.htm).

If they are not busy you should have no problem. A couple of times I had the only bike so I left it horizontal and held it with a shock cord to the rack. However that may not be possible if there are other bikes.

If your wheel base is 2 m long then it might still be possible to hang it vertically, it would just stick a little way out. It might not be too stable, though. The longer-distance trains have a separate baggage area and it should not be a problem to stick out a bit, but the short-distance trains have just an area at the end of a car and your bike could block the aisle.

My advice: go for it and something will be worked out. I always loaded my bike onto the train and was the one to secure it, then I found a seat nearby.

Ken

Ken Brown, April 15, 2003
---
Vienna, Austria
In October 2002 I flew into and out of Vienna airport via Austrian Airlines. The non-stop flight from Toronto was excellent.

When I arrived in Vienna I dragged my boxed bike outside the terminal and assembled the bike. Before taking the S7 train into town I went to the departure level to ask if they have either boxes or bags for the return journey. They do not. They said if I showed up with the bike and no box they would load the bike as is on the plane. Satisfied that this worst-case scenario would not leave me stranded, I abandoned my box and decided I would worry about the return journey later. I think it would have cost about 8 euros a day to store the box, a prohibitive amount given that I was in Austria for 17 days.

I took trains to Salzburg, then Zell am See, then Krimml, where I started my cycle-trip. Cycled the Tauern Radweg to Passau then the Donau Radweg to Vienna. When I arrived in Vienna two weeks later I went to Bike Attack (http://www.bike-attack.at/) at 29 Praterstrasse and the owner was very helpful. I have a 25" Cannondale touring bike, and they not only had a box that was large enough, it was a Cannondale box. He did not expect any compensation but I bought a map of the bicycle routes in Vienna, to show my appreciation.

I cleaned and boxed my bike at my hotel the day before my flight, then arranged for a mini-bus to take me to the airport. I believe all the airport taxi companies have them and the cost was 40 euros, ten more than the cost of a regular taxi. While the train was an excellent way from the airport with an un-boxed bike, I would not recommend it after it has been boxed. It is very difficult to carry a boxed bike and panniers.
Ken Brown, December 10, 2002
---
Fully Guided Cycle Tours
Interested in cycle tours but don't want the planning hassle? Consider a WOW Tour. The signatue tours are cycling the Danube and cycling Canada's Prince Edward Island.
Lynda Varzari, November 24, 2002
---
Vienna, Austria
If you're arriving or leaving via the Vienna airport (called the Flughafen Wien-Schwechat), things have changed in the last year (since 2001). The direct commuter train or S-Bahn connection, the S7, now (fall 2002) operates between the airport and Vienna's Sudbahnhof (South Station), instead of going to the Wien Nord station (Vienna North, in the Praeter area) and stops in between, as it did in 2000 before some rail line reconstruction. (NOTE: There is still rail and station work underway, so this may change again in the next year or two.) The S7 also continues east to Hainburg and Bad Deutsch Altenburg, where you can pick up the Danube bikeway (Donauradweg).

If you assemble your bike at the airport, you can take it on the S7 outside of rush hour, but space is too tight for it to handle a boxed bike, I think. You need a two-zone fare for yourself and a single or bike pass for your bike. You can get tickets at a Tabac (tobacco stand), and I'm told you can also pay on the train, but be sure to have change in 1- and 2-euro and 50-cent coins. Board the train only at doors marked with a bike symbol for bicycle access.

I was unable to find a real bike route between Vienna and the airport, so I asked some people who know the area well. I am told by these Vienna cyclists that there is no really good and legal way to bike into or out of the airport. The Danube bikeway is on the opposite side of the river from the airport, and the only city access to it is from a bridge just south of Vienna, so you still have to get to or from Vienna. (One of my correspondents worked his way over to Highway 9 and rode about 10 km east to a river ferry, but this highway has very fast traffic and no usable shoulder. I don't recommend it.)

I used a different strategy in fall, 2002, for using the Vienna airport: I e-mailed for information from some small Pension/Hotel and Gasthof inns in the Hainburg/Bad Deutsch Altenburg/Petronell-Carnuntum area, a half-hour east of the airport (Vienna is west). A number of these have vans for airport transport for customers, and charge around 35-40 euro (cabs charge around 60). I made reservations for the first two and last two nights at one of these, and was met at the airport and then returned there when I left. Their room rates are at most around half those at Vienna and airport hotels, so this difference easily covered my van costs. A van can usually take at least two boxed bikes and travelers. Check with them clearly by e-mail before making your reservation. Several read and reply in English.

>From one of these eastern towns you can take the S7 into Vienna for sightseeing (with or without your bike), or hop right on the Danube bikeway for Bratislava or the Lake Neusiedl area of Austria . The bikeway runs right through Hainburg and Bad Deutsch Altenburg.

An additional advantage of staying at the same place when arriving and leaving the country was that they were happy to save and store my bike box so I could use it on my return.

I swore I wouldn't fly into or out of Vienna again, but I did it successfully using this different strategy for getting around. I still think it's easier to fly into and out of Graz, Innsbruck, Salzburg, or Linz in Austria if you have a choice, though.

Tom Webb, October 24, 2002
---
OBB Bike Rental Has Been Privatized
Over the past 5 years we have rented bikes from the Austrian Train System (OBB). It was sweet to rent at one station,cycle the lenght/width of Austria and turn the bikes in at any OBB train station, no matter how remote. NO MORE!

It was a money losing proposition for OBB. Some train stations (large cities) utilize private concessionairs to rent out bikes---but---you must retrun the bikes to the station from which you started.

A current important exception is along the Danube, between Passau and Vienna, where you may return a bike that was rented in Passau (only) by putting it on the daily "Radtramper" OBB train from Vienna to Passau.
Henry Moravec, October 04, 2002
---
Tours in France, Norway, Italy, Austria, Spain, Chile, and the Easter Islands.
Hi,

My name is Dainius Lukosevicius, I am the managing director at Brindisi Biking and Hiking. We provide guided biking and hiking tours in France, Norway and will add Italy (Tuscany in 2003), Austria, Spain, Chile, and the Easter Islands.

You may call me toll free in North America. 1 888 849 9474, 1 514 849 1187 You may view our site at http://www.brindisi.ca

Regards....Dainius

Dainius Lukosevicius, August 19, 2002
---
Vienna, Austria
Due to construction works the S7 S-bahn line is closed within the city limits of Vienna until about the end of the year 2002. During this period every second S-Bahn train from the airport to Vienna will be diverted to Wien Südbahnhof (Ost) - Vienna Southern Railway Station (Eastern Railway tracks). The other trains will be substituted by buses (which cannot transport bicycles) to the Simmering subway station in Vienna. S-Bahn trains from the airport to Wien Südbahnhof depart 4 minutes past the full hour, the departure times from Wien Südbahnhof are always 37 minutes past the full hour. On business days there are a few more Vienna-bound trains in the morning and airport-bound trains in the afternoon. The final destination of most trains to the airport is "Wolfsthal". The travel time between Wien Südbahnhof and the airport is 25 minutes, the Eastern Railway tracks are on the lower one of the two upstairs track levels of Wien Südbahnhof.
Andreas Pavlik, July 13, 2001
---
Salzburg, Austria
The trip between Salzburg and its international airport is a bit more intricate than in some other Austrian cities, but only a few kilometers long. Arriving at the airport, if you are staying in the Moosstrasse area (my recommendation) and want to take a taxi with your boxed bike, you'll find many cabs able to carry it. The distance and cost is not great, especially if you ask the driver to take the back residential streets.

To bike into town, exit the terminal building toward the main street to your left. Turn right at this street, using a bicycle lane that continues through a dark tunnel. You will be on Innsbrucker Bundesstrasse. At the first major intersection after the tunnel, at a little over 2 km:

(1) To get to the main tourist office at Mozartplatz, or to the Moosstrasse area for a room, turn right at the first major intersection onto Maxglaner Hauptstrasse. This follows a gentle leftward curve for about 1.5 km, where it hooks right as Neutorstrasse and then crosses the beginning of Moosstrasse to the right. For the area with B&B accommodations, turn right onto Moosstrasse. Most local cyclists use the sidewalk alongside it instead of the narrow street. To reach Mozartplatz downtown, continue straight across here.

You will find some painted bike lanes on the streets, some shared with buses, and then there are pink dedicated bike lanes. Bear left following the bike lane, and head toward a tunnel through a mountain.There is a bike lane up to the tunnel, then no bike lane at either the tunnel entrance or the exit, but there is a bike lane inside, through the tunnel. So watch the merge with vehicle traffic as you enter and as you leave the tunnel.

As you come out of the tunnel at a traffic light, you are at an intersection with Hofstall Gasse. Follow the stenciled arrow on the pavement, turning right into a wide, low-traffic street. After passing through some archways, you next face the grand basilica/cathedral. Make your way left around the basilica, cross an unpaved plaza, and look for the statue of Mozart. The local and regional tourist information offices are at Mozart's right hand.

(2) To reach the main train station, follow Innsbrucker Bundestrasse to the left and stay with it as it curves back right. As it ends across from a hospital complex, ride through the complex and out through some archways and down to the river. Turn left onto the dedicated bikeway near the river. Go under first a railway bridge and then under a vehicle bridge. At a third bridge, for pedestrians and bikes only, take the bridge across the river and continue straight into Jahnstrasse. Follow this for about four blocks to the main railway station.

To reach the airport from the main railway station: Exit the station and go to the north side of the plaza in front of it, on your right. Take the street that leaves the plaza – this becomes Jahnstrasse and leads to the river about four blocks away. Cross the river on the bike/pedestrian bridge, and turn left onto the dedicated bikeway on the other side. Follow this first under a vehicle bridge, then under a railroad bridge. At about 1 km turn right through some archways and climb a short hill. Take the nearest crosswalk across a street and go through the grounds of St. Johann-Spital hospital. At 1.7 km, leave the grounds and take the nearest crosswalk across a street, continuing in the same direction. Pass to the left of a service station and enter Innsbrucker Bundesstrasse, taking the bike lane (it doubles as a bus lane) on this major street.

At a five-way signalized intersection, after crossing a small bridge, you intersect with Klessheimer Allee coming in from the right. Make a left here – if you miss the left turn lane, just take the cross walks to go left. This is still Innsbrucker Bundesstrasse, which next bends to the right at a major intersection and continues to the airport.

As you approach a dark tunnel ahead (the airport is now visible beyond it) at 3.8 km, make sure you are in the bike lane, and go through the tunnel. At about 4.5 km pass the first airport building. Pass a gas/petrol station (BP when I was there), get into the street and make a left turn into the terminal facility at about 5 kilometers.
Tom Webb, February 27, 2001
---
Linz, Austria
The Linz airport is south and west of the city, only about 5 km from the train station. The street coming out of the Linz airport is Welser Strasse, which runs north and east and becomes Unionstrasse south of the railroad yards and main railway station.

These streets have a bikeway that is continuous between the airport and the south end of the yards. Local streets can be used between that point and the train station. North of the station, a busy but navigable street, Landstrasse, makes the connection to or from the pedestrian-only Hauptplatz (main plaza).

This downtown plaza is in turn just south of the easiest bridge, the Nibelungenbrucke, to use across the Danube to or from the Danube bikeway.
Tom Webb, February 27, 2001
---
Innsbruck, Austria
The Innsbruck airport is on the edge of the city, with quick, easy access. Coming out of the airport terminal, go right and make a counter-clockwise loop around the parking lot using the one-way road. Then take the local street Firstenweg out of the airport, passing a sign for the Zentrum (downtown) and a four-star hotel. At a little under 2 km, at a sign for a Pension (the only B&B on this side of town), turn right on Exlgasse. Two blocks further, as this street ends, turn left. After one block work your way right into a wooded park and toward the river onto a riverside bike path.

About 50 meters/150 feet after joining the bikeway, look carefully for a bike/pedestrian bridge, hard to see in the vegetation though it's slung under a railroad bridge. Dismount and cross the river, and turn left on the bikeway on the other side.

When this bikeway ends at about 4 km, merge left with a small street by the river and continue straight. When this street curves right and ends at a wide street at about 4.5 km, use the crosswalks to cross this street. Go left about 50 m to Markt Graben and turn right using the bike/bus lane in the street. Markt Graben bends a little to the left at each intersection. Cross Maria-Theresien-Strasse, and the main Innsbruck information center is on the left side of the street, which is now called Burggraben.

To continue for the train station, continue on Burggraben. At a church and plaza on the left, turn right into Museum Strasse. Turn right at the fourth traffic light. You'll see the train station ahead on the left.

Making the left into the station is tricky on this busy street -- best to get onto the sidewalk and use the crosswalk. There is another information center at the far end of the station
Tom Webb, February 27, 2001
---
Graz, Austria
Following the Mur River (R2) bikeway, heading south out of Graz, you pass by the airport turnoff on the way, and the airport is nearby. The turnoff onto the R9 bike route to the airport is about 8 kilometers south from the junction of Keplerstrasse (the street from the main train station) and the river in central Graz.

Coming south from Graz on the R2 or Mur Radweg (Mur bikeway), take a right on the R9 or Erzherzog Johann Radweg (this may also be signed as the way to the ?Schwarzl Freizeitzentrum?). After crossing the B67 highway, turn left (south) and follow the R9 for about a kilometer, until you come to the train stop for the airport. To your right you can see the airport terminal buildings. Leave the R9 cycle path and go right (west) to the airport, about 300 meters over.

Coming from the airport, cycle out of the airport on the street for about 300 meters, to the train stop. Before crossing the railroad tracks, turn left (north) and follow the R9 bikeway for Graz. When you come to the Murradweg or R2, turn left for Graz, or you can go right and follow the bikeway toward Leibnitz and Slovenia
Tom Webb, February 27, 2001
---
Vienna, Austria
When I took a two week bike tour in Austria, Slovakia, and Hungary in August, 2000, we stayed the first and last night at what was then called the Stop and Sleep Hotel It appears that the name has changed to Airporthotel Vienna. The Address: Marco-Polo Straße 1 Fischamend, Vienna A 2401, Austria. http://condenast.hotelbook.com/static/welcome_19965.html

We were able to get approval to store our bikes in advance through the reservation agency. However, upon arrival, the Hotel manager was not aware of these prior arrangements and was quite put out. Reluctantly, we were accommodated though.

We were able to get transport to the hotel for our two very large bake cases through Masur Airport Service (Tel. 70-07/6422). They were located in the arrival lobby of Schwechat. The cost was about 350ATS.

Another alternative is the Hotel Sofitel located within the Airport proper and within walking distance of the terminal. The Sofitel is expensive compared to the Stop and Sleep (Airporthotel Vienna). An email contact with the Hotel Sofitel also indicated that they would store out bike cases while we toured.

It is possible to exit the airport by bike and travel a short distance 1-2 km East on B-9 (Hainburger Bundesstraße) to Fischamend. It may also be possible to exit West and reach Mannsworth and Schwechat. From Schwechat there exists a system of bike paths and routes that will take you into the city centrum. We did not travel on these but they were clearly visible from the S-bahn

The best method to exit the airport by bike is the S-bahn with a rail terminal located in the air terminal. The S-bahn is very bike friendly and rail cars that accommodate bikes are marked as such.

If you want to travel along the Donau Radweg, you can cross the river only at Vienna and Hainburg. Again the S-bahn offers the best method to reach these two points.

If you are traveling East, the best route on the Vienna side of the river starts at Fischamend. Fischamend is the next rail stop East of the airport. It is about 1km (up hill) from the Fischamend train station to the hotel where we stayed. It would not be easy to get a large bike case from the train station to the hotel where we stayed.

I am including a copy of this e-mail to George Farnsworth, since I have been wanting to update his web site with this information too.

If you are wanting additional information on touring this part of Austria, Slovakia and Hungary, you may view our experiences at my website: http://www.clee.org/Slovakia.htm

I will be happy to answer any follow-up questions that you might have.

Cletus Lee



Cletus Lee, November 09, 2000
---
Munich, Germany

If there is some flexibiliy in your plans,fly into Munich, Germany. The tickets are cheaper and there is cheap box storage in the Munich airport. Munich is only about 60 miles on beautiful bike lanes from Salzburg.


Or you and your bike can train directly from the Munich airport to Salzburg at a good price just about every hour if you are short on time. Sometimes a BOB can be trouble on trains due to lack of space in assigned bike cars, check with local rail agents when buying your ticket. If there is a space problem, chances are the next train out will have room. From larger cities to larger cities thar trains almost every hour.


There are small hotels in Germany, Austria and Switzerland that cater to cyclists and the tourist board of each country can provide you with information about them as well as make reservations for you, for a small fee. It is well worth the price to let them do it. They can also supply you with maps for all the national and local bike routes, as can most bike shops, book stores and gas stations in each country.


If you are there in August through mid September maybe we will cross paths. My wife and I leave Aug. 9 for Munich and points beyond.
RMitc, July 17, 2000
---
Vienna, Austria
Visiting www.bikeaccess.net after some time I found an article written by me in 1996 regarding bike transportation between Vienna International Airport and the city. In the meantime the restrictions to off-peak hours were lifted, the fares were increased and the information regarding the fare for a bike was wrong (it was the fare for bike transportation on the Vienna subway). Included is a revised version of my article.


With best regards,

Andreas

---
Revised article:
Access to the Vienna International Airport in Schwechat is possible by train (S-Bahn, line S7). Trains run in 30 minute intervals and depart at the Wien-Nord station. Additional stops in Vienna are Wien-Mitte (near the city center) and Rennweg. Travel time from Wien-Mitte to the airport (Flughafen Wien-Schwechat) is 33 minutes. There are no restriction to off-peak hours, but the conductor has the right to reject passengers with bikes, if the train is crowded which is very unlikely. (Peak times are the early morning for Vienna bound trains and the late afternoon for outbound trains, as the line S7 is mostly used by commuters working in Vienna). You may board the train with your bike through any door marked with a bike symbol. For yourself you need a ticket valid for 2 zones (current fare ATS 38.-) and for your bike a bike pass. (Current rates are ATS 40.- for a one-day pass and ATS 90.- for a one-week pass).

Due to construction works for upgrading the rail line temporarily suspension of the rail service has to be expected in 2001, maybe already by late summer/fall 2000. Buses will operate on days without rail service, but they cannot transport bikes.


Andreas Pavlik [email protected] Wien (Vienna), Austria [email protected]
Andreas Pavlik, June 09, 2000
---